Seventy Five North and HWS Partnership
Heartland Workforce Solutions
Partnerships
Today's job search can be complicated, but with the help of Heartland Workforce Solutions, we partner with organizations from around our community to provide an array of resources to individuals looking for employment. 
Seventy Five North

In 2019, the City of Omaha, Omaha Housing Authority, and Seventy Five North Revitalization Corporation received the Choice Neighborhood Implementation grant award of $25 million to redevelop the once Spencer Homes public housing units into mixed-income and retail space properties.  Seventy Five North contracted with Heartland Workforce Solutions to employ a Career Readiness Coordinator to work with Spencer residents regarding employment and upward economic mobility.  Nicole Lewis was hired January 2022 to fulfill that role.  Partners within the grant include Metro Community College, Urban League of Nebraska, No More Empty Pots, Nebraska Early Childhood Collaborative, and more.
http://www.seventyfivenorth.org/
Choice Neighborhood Newsletter and Calendar
Workforce Wednesdays
Every Wednesday from 10am-2pm Nicole is available inside The Connect (2112 N 30th St, Ste 105) to help residents navigate the workforce system.  This includes resource connection, job preparation, and goal attainment for individualized career seekers.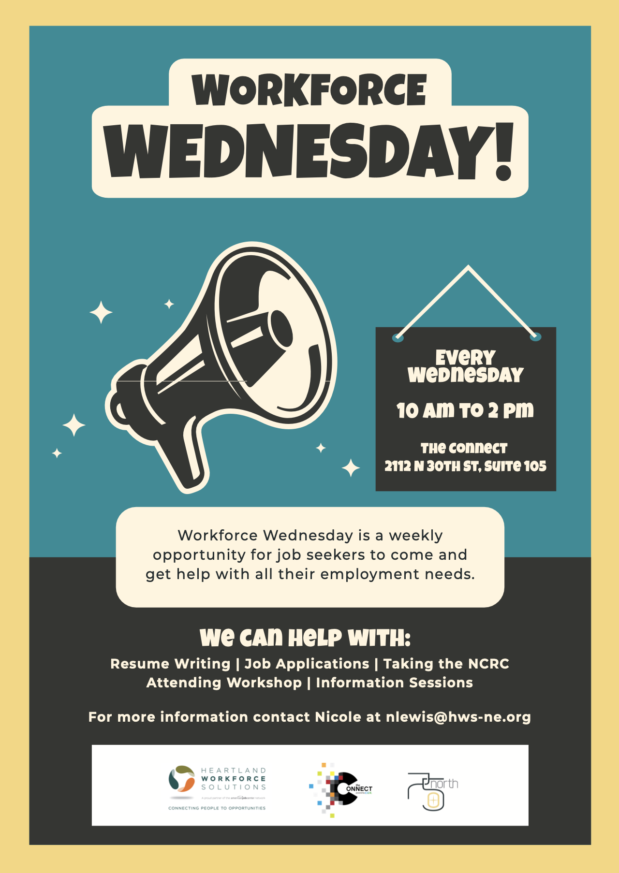 Nicole can be contacted at nlewis@hws-ne.org to learn more.
Looking for event space?  Located on Seventy Five North's Highlander campus, The Connect and The Venue are available for meeting and event rental.
https://highlanderomaha.com/the-connect/
https://highlanderomaha.com/thevenue/
Our 75 North Team