Career Seekers
Find the right career for you.
We help people at any point along their career path, from a first job to a new career. Our representatives can direct you to personnel, programs or services that fit your needs.
My Career Story
My Career Story is a hybrid series of events hosted by Heartland Workforce Solutions and 75 North. At these events, we invite someone in our community who has been successful in their career and let them tell their career story in their own words. These events are held monthly and include time for Q&A and networking. Feel free to attend in person or via Zoom.
Upcoming Events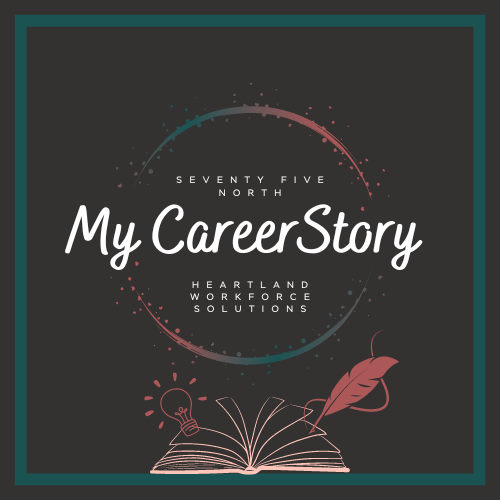 Past Events
February 2023 – Tamara Dwyer
(Government Administration – Homeless Services Coordinator for the City of Omaha)
December 2022 – Patricia Kearns
(Healthcare – CEO and President of QLI)
November 2022 – Marisa Hattab
(Government and DEI – Douglas County Diversity, Equity, and Inclusion Officer)
October 2022 – Armando Salgado
(Entrepreneurship – CEO of LingoDocs Marketing)
September 2022 – Shawntal Mallory
(Law and Nonprofit Management – Attorney and Executive Director of the Nebraska Legal Diversity Council)
We're here to help.
No matter what employment obstacle you're facing, we're here to make finding and securing a job as easy as possible. We work with each person to set educational and employment goals. Then our community partners help match you with the right resources and meaningful job opportunities. You'll get connected with the tools and skills you need to build your credentials, find employment or advance in your career. Explore our career seeker services:
We are proud to help everyone reach their career goals. We do not discriminate based on race, culture, language, status of citizenship, age, ability, income, educational level, religious affiliation, gender identification or sexual orientation. 
While one-on-one mentorship is done in-person, you can access many career resources online in our resource library.
If you're experiencing other obstacles, such as finding a food pantry, paying for a utility bill, accessing safe housing or receiving counseling services, United Way of the Midlands can help. Call 2-1-1, text your zip code to 898211, or email ne211@uwmidlands.org.
Fill out the form below to have a customized connection to our partners.
Certificates and Training
There are a range of no-cost assessments and training programs available at our location. Once your assessment tests are taken, a career specialists will know which training programs to suggest.
If you'd like to search online for state-wide education services, visit the NEworks website.
Resume Writing
Heartland Workforce Solutions offers workshops and tutorials on how to build a strong resume. For immediate help online, TheBalanceCareers.com offers a comprehensive guide to writing effective resumes and cover letters. Attend free, in-person workshops on Wednesdays at Heartland Workforce Solutions from 1:00 p.m. – 4:00 p.m.
Unemployment Insurance
Heartland Workforce Solutions helps you navigate applying for unemployment and finding opportunities. You can also view common unemployment questions online.
Start your job search.
Heartland Workforce Solutions works directly with NEworks.Nebraska.gov, a comprehensive online resource for the state of Nebraska, to direct career seekers to a strategic mix of job openings, career exploration, employer information, education and labor market research information.
If you would like to expand your search, there are a variety of job search sites available online:
Nebraska VR
Nebraska VR is an employment program for people who experience a disability. Everything Nebraska VR does and all of the services we provide are for the purpose of helping people with disabilities prepare for, find and/or keep a job. Services are available at our Heartland Workforce
Assistance
Frankie Charles
Phone: 402-934-2868
Email: frankie.charles@nebraska.gov 
Omaha Housing Authority
The Omaha Housing Authority (OHA) contracts with the U.S. Department of Housing and Urban Development (HUD) to provide low and moderate-income individuals with safe and stable housing through rent subsidies.
Assistance
Phone: (402) 444-6900
Email: Click Here
Operation Hope
Operation Hope equips young people and adults with the financial tools and education to secure a better future—coaching them through their personal aspirations and life's challenges and facilitating their journey to financial independence.
Assistance
Yolanda Butler
Phone: 925-567-4907
Email: yolanda.butler@operationhope.org
Goodwill – YouthBuild
Goodwill Omaha's YouthBuild AmeriCorps program is a national pre-apprenticeship educational, leadership, development and occupational skills-training program for disadvantaged and at-risk youth ages 16 to 24. This program provides job training and educational opportunities for youth who previously struggled with and/or dropped out of high school.
Assistance
Norman Barnes
Phone: 402-522-7231 Ext 7231
Email:nbarnes@goodwillomaha.org
RISE
RISE, a Nebraska reentry program, prepares people in prison for a successful reentry through character development, job readiness and entrepreneurship. 
Assistance
Erica Pieper
Phone: 402-934-2786
Email: epieper@seeusrise.org
Proteus
Proteus provides agricultural workers and their families with affordable health care, education assistance, and job training.
Job Corps
The Job Corps is a free education and training program that's a lot like going to college, but you'll learn job skills that colleges don't offer. If you don't have a high school diploma, the Job Corps will help you earn it. Then, you can explore a variety of career possibilities and learn how to get there.
Assistance
Shayla Dailey
Phone: 402-934-2258
Email: dailey.shayla@jobcorps.org
Eastern Nebraska Community Action Partnership
ENCAP is a private, non-profit Community Action Agency responsible for providing social and human services to people facing poverty in Douglas and Sarpy Counties.
Assistance
Phone: (402) 453-5656
Email: info@encapomaha.org